Makeup for different eyelid shapes
Eyelids come in many shapes and sizes. Choosing the right products will allow you to achieve a number of looks possible by choosing the right colors and apply the right techniques. Finally, an easy guide on how to apply makeup for different eyelid shapes.
There are a number of different eyelid shapes, and they all have their own makeup tips. If you're struggling to find the right look for your eyes, here are some tips to help you out:
Wide-set eyes: If your eyes are wide-set and small, try using a large eyeliner brush to apply a thick line of eyeliner to the upper lid. This can make your eyes appear larger, which will give them a more dramatic appearance.
Close-set eyes: If your eyes are close-set and small, try applying light shadow on the inner corner of each eye. This will help open up your eyes so that they appear larger and more prominent on your face.
Deep-set eyes: If your eyes are deep-set and small, try applying highlighter under the arch of each eye with an angled brush. This will help draw attention upwards towards your brow bone so that it appears like there is more space between your brows and eyelids than there actually is!
Makeup for different eyelid shapes
How to Find Your Eye Shape:
1. Find a mirror.
"If you're trying to determine what your eye shape is, good news, there are two simple steps to follow. Nicolet says, "Before you begin, it's helpful to know you may not just have one eye shape. The key is to pinpoint the most prominent features in your eye area. To determine your eye shape, first, look straight into a level mirror and take notice of how much of your moving lid and crease you see. Second, imagine a straight line going across the center of your eyes and take notice of where the corners of your eyes fall in relation to that line."
2. Look for a visible crease.
Take a look at the top of your eyelid. Wyman says, "If there is no crease to the lid and larger lid space below the brow bone," your eyes are likely monolids. On the other hand, "If there is a crease but it covers all or majority of the lid, this is a hooded eye," explains Renee. Think you may have hooded eyes? Wyman says you'll know "when the upper lid hangs down slightly and or the natural crease appears hidden, and there is very little visible lid space between lash line and crease."
3. Draw an invisible line straight across your eye.
If you don't have hooded or monolid eyes, try this trick. "Pretend to draw a straight line across the eyes with the pupil in the middle," says Renee. "Then look at the outer corners of your eyes to see whether they are pulling up above the line, or down below the line."
If the corners go above the line, you have upturned eyes, where, Wyman says, "The outer corners of eyes are slightly upturned and are higher than the inner corner of the eye." If the corners go below the line, you have downturned eyes, "Where the outer corners of eyes drop down slightly lower than the inner corner of the eye."
If they're below the line, your eyes are downturned.
4. Still not sure? You might have a round or almond eye shape.
[Round eyes] are less tapered than almond eyes in the corners. When you look straight ahead you can see white of your eyes above or below the iris," says Wyman." If you don't, your eyes are almond," adds Renee. "Almond eyes," according to Wyman, are one of the more versatile eye shapes—oval with narrow corners and symmetrical. You cannot see the top or bottom of the iris when looking straight ahead in the mirror."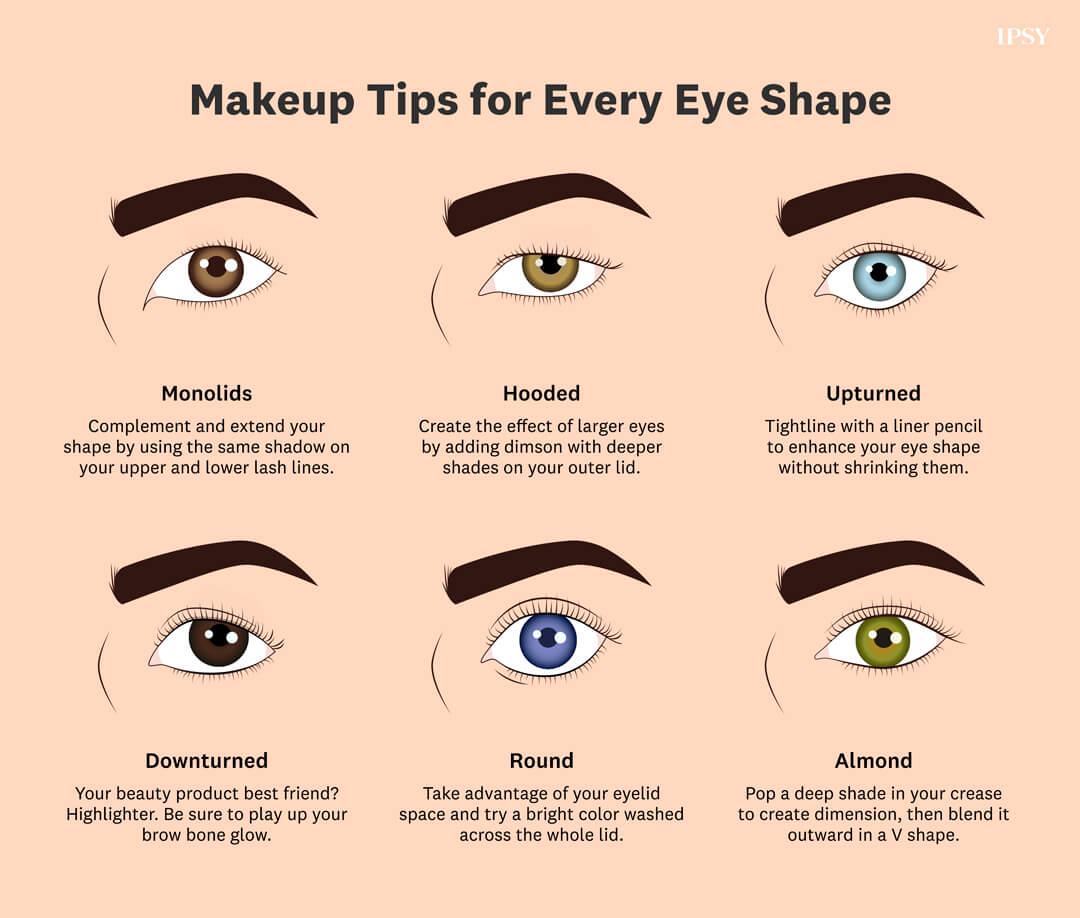 Makeup Tips for Each Eye Shape:
Makeup for monolid eyes: All you need to enhance a monolid eye shape is a little bit of eyeshadow. "Complement and extend this eye shape by using the same shadow on your upper lid and lower lashline and blending the shadow outward and connecting them," says Renee. Don't shy away from eyeliner, either. It's a great way to enhance and define the beauty of your monolids. Wyman says, "Avoid thick liners that will smudge or get lost on the upper lid. Instead, try a gel eyeliner on the outer third of your eye, or smudge a darker matte shadow shade on the lower lash line and outer edges of the eyelid."
Makeup for hooded eyes: A hooded eye shape can naturally make the eyes appear smaller, so you'll want to create an eye look that gives the illusion of opening up the lid, such as a cut crease. "Add depth and dimension by blending a deeper shade to the outer two thirds of the lid," says Renee. However, "Avoid applying the deeper shade further than the center point on the lid, so as to prevent closing in the eyes," she advises. Nicolet suggests, "Help open your eye area by adding a light, shimmery shadow to your inner corners."
Wyman adds that, "Dark shadow looks and heavy liner will close the eyes in further. Use mid-tone matte shadows with eyes open to "fake the crease" and create a little depth just above the natural crease line, then blend with a fluffy brush. Apply liner with eyes open, looking straight ahead to achieve symmetry and to make sure it will be visible when the eye is open. Then, finish with lashes with a slightly longer center and shorter inner and outer corners to make eyes appear more open and awake. Curling your lashes before applying mascara is also a great eye-opening trick."
Makeup for upturned eyes: "To enhance upturned eyes without shrinking them, try using a tightline technique with your pencil eyeliner," recommends Reneet. "Line as close to the lashes as possible and smudge into the lashes to create a full lash line." Winged eyes are also a super fun way to enhance upturned eyes. "Play up or accentuate this eye shape with winged eyeliner, or create a cat eye effect with smokey or smudged shadows on your upper lash line and partially on your lower lash line," says Wymam. "Individual lashes on outer corners or partial lashes on outer corners are also very flattering."
Makeup for downturned eyes: Your beauty product best friend? Highlighter. "Create more lift for this eye shape by avoiding heavy shadows under the eye and really playing up the highlight on your brow bone," says Renee. Or, try a classic cat-eye to draw the eye upward. "This eye shape can rock out a winged liner like nobody's business! A classic natural-toned lid and wing liner is always a great option to enhance this shape," says the makeup artist. A few don'ts? Wyman explains, "Do not bring eyeliner or shadow all the way to the outer corners of the eye. Instead, stop before the outer corner turns down and draw the shadow or liner slightly up open for a lifting effect. Use the same technique when applying false eyelashes, and follow the lifted line, not the natural lash line, to the outer corner when gluing them down."
Makeup for round eyes: Your eyes are essentially a blank canvas—take advantage, and experiment with eye makeup. "Play up your top lash line and outer corners," suggests Wyman, "Try darker shadows in a gradient to add depth on the outer corners, and always blend outwards. Or, try a winged liner for a lifted look. You can also accentuate round eyes by putting a shimmery shadow right in the center of the lid above the iris." Round eyes are also great for playing with color. "To accentuate your eye shape and take advantage of your eyelid space, try a bright color wash across the whole lid," says Renee.
Makeup for almond eyes: It's all about creating dimension with that crease. "Accentuate your almond shape and open the eye by adding a deeper shade to your outer crease and lash line and pulling it outward in a V shape," recommends the makeup artist.
Love playing with color? Wyman adds, "This eye shape can pull off a lot of fun shadow and liner looks! Try a color wash over the whole lid in a light neutral shadow and create depth in the crease and along the upper and lower lashline with a brown or taupe eyeshadow. Smoking out the lower lash line is beautiful on almond eyes, as is creating a cat eye with liner. I find a thinner line is better for graphic liner looks, and you can always make the line just above the iris slightly thicker to give the eyes a rounder effect. For something bold and dramatic, try a cut crease or halo shadow look and add shimmer to the center of the lid."